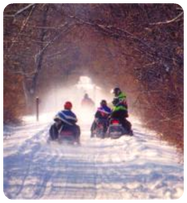 Adams County boasts over 200 miles of state-funded, well-groomed, well marked snowmobile trails. Many Adams County businesses and restaurants have snowmobile parking and loading areas. There are a score of snowmobile clubs and associations. Area businesses and clubs sponsor several snowmobile races and events during the winter months – and even a couple in summer. Detailed trail maps are available through the Adams County Chamber of Commerce & Tourism and at local businesses.
To request a snowmobiling trail map please contact us:
Adams County Chamber of Commerce & Tourism
252 South Main Street
P.O. Box 576
Adams, Wisconsin 53910
608-339-6997
or email us at: chamber@visitadamscountywi.com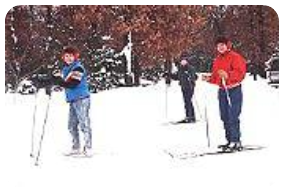 When the golden leaves of autumn have fallen and snow blanket Adams County, the many miles of well-maintained hiking and walking trails lend themselves equally well to the cross country skier or snowshoer.
Offering particularly beautiful winter scenery are Roche-a-Cri State Park and the Van Kuren Trail. So put away your Nordic Tracks and come experience the real thing.
While fishing in Adams County is great in any season, there is a particular species of angler who cannot wait for the water to become thick enough to stand on.
The many lakes, ponds, creeks, and rivers in Adams County offer countless opportunities to the ice-fishing enthusiast. Several area clubs and businesses sponsor ice fishing events – with the emphasis on fun – during January and February.