Welcome, Welcome!
Many people today ask themselves the same questions before going on vacation… "Where can I go to get away from the office? "Where can my family go to have multiple things to do?" Well, BINGO! Come to Adams County! From the top of the county to the bottom, there is fun and adventure in every quaint town. Not only does this county have numerous lakes, including the second and fourth largest inland lakes in Wisconsin; there are six golf courses! Out here you can speed down the trails at the Off-Road Park or travel the many open roads and trails that are mapped out throughout the 689 acres.
​Want to see unbeatable views?
Try climbing the up the bluffs or enjoying the beach at the local parks. Want to bask in the sun and have a cool beverage in your hand, you got it! From floating down on a tube on the Wisconsin River or renting a pontoon for the day out on Castle Rock or Petenwell Lake; just bring your swimsuit and you are set! Free wine tastings, antique shopping and the open markets are wonderful. There are two farmer's markets every week and a huge flea market on the weekend. Where can while enjoying the sites and small town friendliness? We have over 10 campgrounds in the area from primitive to full hook up. Not only does the Adams County have cabins too, but we have full resorts with waterparks, pools, golf and suites for the most deluxe stays. When I say Adams County has a little bit of everything for anyone, it's because, WE DO! Check out our beautiful quaint county and stay awhile or never leave!
​Have fun!
Laura Hook
Executive Director
Email Laura
608-339-6997 or 888-339-6997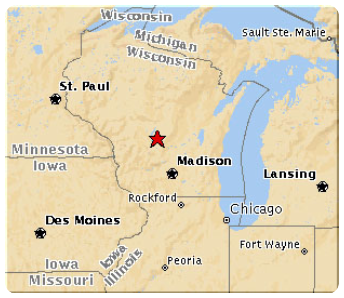 Driving Distances to Major Cities
Milwaukee, Wisconisn - 145 miles
Madison, Wisconsin - 76 miles
Green Bay, Wisconsin - 125 miles
Minneapolis, Minnesota - 210 miles
Chicago, Illinois - 220 miles
Office Hours are: Monday-Friday 9am-5pm and visitor locations on the weekend are: Castle Rock Lake County Park and Petenwell County Park