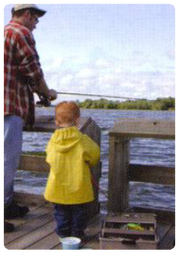 16,640 acres

​30' maximum depth

Game Fish: Walleye, Northern Pike, Bass, Panfish, & Musky
Two of the best-kept secrets in Wisconsin are Petenwell and Castle Rock Lakes, the second and fourth largest inland lakes in the state, together covering over sixty square miles.
In Adams County, the shores of Castle Rock Lake are dotted with public launch sites, and visitors can enjoy water skiing, swimming, sailing, and boating on its beautiful blue waters. Spectacular sunsets await along the many miles of wooded shoreline where 25,000 acres remain in their natural state. For the angler there are walleye, northern pike, bass and perch lurking just beneath the surface.
Started in 1947 and finished in 1951 by the Wisconsin River Power Company, Castle Rock Lake is Wisconsin's fourth largest lake. It covers sixteen thousand acres, and has approximately sixty miles of shoreline. The majority of shoreline is undeveloped making the lake "less populated" and ideal for boating and skiing. The lake's depth varies from 8 to 20 feet in most places, with area in the old river beds reaching as deep as 30 feet. The structure created from the river beds makes Castle Rock a very productive and consistent fishing lake. While walleyes, white bass, and crappies are the most abundant, many northern pike, large mouth bass, small mouth bass and panfish are taken also.
Wisconsin River Power Company generates enough electricity at the Petenwell Dam during peak demand to light 40,000 homes. Tours of the generating facility and spillway are available by calling 608-565-2217 for more information.
23,040 acres
​42' maximum depth
Game Fish: Walleye, Northern Pike, Bass, Panfish, & Musky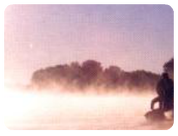 Lake Petenwell is Wisconsin's second largest lake at 23,040 acres or approximately 36 square miles. It was created in 1948 by the Wisconsin River Power Company with the construction of a dam across the Wisconsin River near Necedah. It has a maximum depth of 42 feet and is excellent for skiing, sailing or fishing. Private lakefront property is very limited as most of the virgin shoreline is undeveloped forest. Wildlife abounds including one of the larger populations of wintering bald eagles in Wisconsin.
While the area is quite rural and unspoiled in flavor, its amenities are quite cosmopolitan. It has excellent restaurants; community theatre; an 18-hole, par 72 golf course (originally rated among the top 75 public courses in the country) and a choice of two casinos within 30-40 minutes driving time. The lake is located between Adams and Juneau Counties and is approx. 30 miles north of the Wisconsin Dells on State Highway 21.

The Shermalot Show Team is a fifty member water-ski club which performs every Saturday evening from Memorial Day through Labor Day at 6:30 P.M., at the west end of Lake Arrowhead.
Lake Arrowhead is located in northern Adams County in the Town of Rome, a recreational community built around Lake Arrowhead, Lake Sherwood, and Lake Camelot.
Edgewater Marine and Evinrude Motors sponsor Wisconsin Class B Show Champions three times in a row, the Shermalot Show Team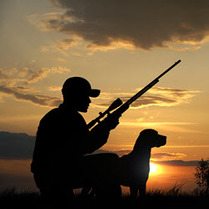 Adams County has a thriving wildlife community, thanks to both sound management practices and minimized habitat encroachment. A few once prevalent species have staged recent comebacks, most notably the wild turkey.
In addition to the rifle deer season in November, there are bow hunting and muzzle loader seasons, and seasons for waterfowl and other species. All questions relating to season length and other regulations should be addressed to Department of Natural Resources personnel at the Friendship Ranger Station.
Adams County is also home to many fur-bearing animals; beaver, otter, fox, muskrat, raccoon, and coyote, among others. Local topography supports their varies habitats and affords the outdoors enthusiast a glimpse of untrammeled nature.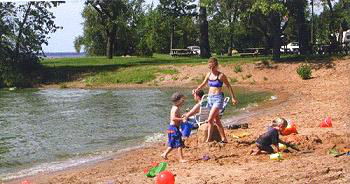 Adams County Parks & Trails
​In Adams County both Adams and Friendship have town or village parks.  There are several township parks located throughout Adams County, each resting beside a sparkling lake; Lakes Camelot and Arrowhead in the town of Rome, Patrick Lake in New Chester, Lake Mason in Big Spring, and Easton Pond, near the town of Easton.
Dyracuse Motorcycle Recreational Area
Dyracuse Motorcycle Recreational Area named after the prominent sandstone butte in northern Adams County offers over fourteen miles of trails in the 250 acre park, including ATV and off-road motorcycle tracks. There are picnic grounds with grills and tables, a playground area, shelter house, lookout tower and hot and cold water restrooms.