The hub of summer activity can be found at Castle Rock and Petenwell County Parks, located on the respective flowages of the Wisconsin River. Both offer camping complete with electrical and water hookups, showers, flush toilets, and dump station. Semi-primitive tent sites are also available.
adamscountyparkswi.com/
The large, clean beaches, boat landings and visitor hospitality have people coming back year after year. Both Castle Rock and Petenwell Lake can accommodate all types of watercraft, while the river below Castle Rock Dam makes for a most enjoyable canoe trip.
Wintertime is snowmobiling season, currently over 230 miles of state funded, well groomed trails twist through forest and farmland. Afterward, cozy accommodations and dining top off a perfect outing.
For further information contact the Adams County Parks/Recreation and Snowmobile Trails Department.
Call (608) 339-4230 for 24-hour snowmobile trail reports.
Click Here  for current snowmobile trail reports & info for Adams County Wisconsin
Click Here  for current fishing report for Petenwell Flowage
Click Here  for current fishing report for Castle Rock Lake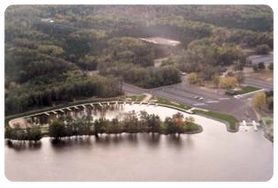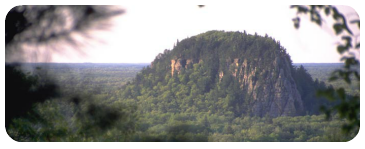 Centuries before it served as a natural landmark along French fur-trading routes, Roche-a-Cri Mound held significance for the area's earliest inhabitants. The mysterious carvings and paintings on the rock of the south face bear witness to their passing. The archaeological importance of these prehistoric art forms has earned Roche-a-Cri Mound its listing on the National Register of Historic Places.
The 300 foot cambrian sandstone rock outcropping, from which the park derives its name, was once an island in glacial Lake Wisconsin. The summit, now accessible by a stairway, offers a breathtaking 120 mile panorama.
As intended the stairway has served to simultaneously improve public access to this natural monument while helping to protect the park's environmentally sensitive areas.
.
The varied terrain of the 425 acre park includes grasslands, open cliffs, pine barrens, oak forest, prairie, and the trout-rippled meanders of Carter Creek.
Roche-a-Cri State Park offers 41 rustic campsites. Of these sites, 37 are reservable, 1 is handicap accessible, 3 are non reservable, and 4 sites offer electrical hookups. Every site includes a fire ring and picnic table. There are 2 toilet facilities and 2 water stations within the campground. Firewood is available for sale at the office. The park has 5 miles of marked hiking trails that also serve cross-country skiers during the winter. In any season, the spectacular scenery is unmatched in beauty.
Friends of the Park sponsors several events at Roche-a-Cri, including the Pumpkin Walk, Candlelight Hike, Breakfast with the Birds, Annual Photography Contest, and various naturalist presentations designed to promote the use and appreciation of this extraordinary natural resource.
Castle Rock and Petenwell County Parks
Parks are undergoing new campsite design & restoration. Park stickers are required for day use of parks, not for campers. They have monthly rates for camping and boat slips. Access to sanitary dump station for watercraft is also available.
Petenwell Park Renovation & Expansion Project 
Adams County Parks, Recreation and Snowmobile Trails Department has completed a $1.8 million expansion at Petenwell County Park. This included a Harbor Refuge for 90 watercrafts, 1/2 for seasonal use, 1/4 for monthly use, and 1/4 for weekly and /or day use, new heated shower/restroom facility; new visitor/registration station with concession/game room; added paved parking lots with more space. Additional campsites currently being added, most with electricity. Petenwell County Park generates the most camper revenue of any county park in the State of Wisconsin.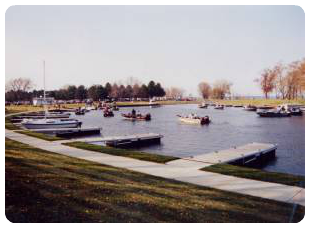 Petenwell County Park is open year-round with heated shower/restroom facilities. Lake Petenwell is the 2nd largest body of water in Wisconsin. This 160 acre park is on a beautiful lake, game room, designated swimming area, boat launch, playground equipment and hiking trails, heated showers and restroom facilities. Seasonal boat slip reservations will be accepted on a first come basis annually beginning January 1, by calling the Administration Office at 608-339-4230. Monthly, weekly, and daily boat slip rentals will only be accepted at the park, at the time of use. New at Petenwell Park: 115 newly developed campsites.
The park is located 17 miles northwest of Friendship. To get there, go nine miles north of Friendship on Highway 13, west 6.5 miles on County Trunk C, turn north on Country Trunk Z for 1/4 mile, and turn left and go 1/2 mile on Bighorn Drive. 2004 Bighorn Drive, Arkdale, WI 54613. (608) 564-7513.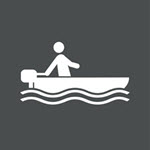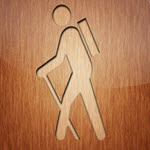 Outlying County Parks include: 
Shelter rentals available at Lake Arrowhead and Patrick Lake County Parks. These County Parks are open May 1 till November 1. All other Public Water Accesses are open all year round!